Do you need porta potty rental in Tempe, AZ? Whether you need to plan your ablutions for an event or need emergency porta potty services for your business, call Arizona Portables.
We Have Porta Potty Solutions for All Industries in Tempe
At Arizona Portables, we provide the best porta potty services for businesses and events in Tempe, AZ. With us, you never have to concern yourself with closing your business due to a broken bathroom. Contact us today, and we'll assist you with porta potty services for the following.
Retail outlets, strip malls, and shopping centers.
Commercial premises and warehouses.
Restaurants, entertainment venues, and parks.
Industrial worksites and multi-site projects.
Outdoor events and sports venues.
Federal and military sites.
Why Select Arizona Portables for Your Porta Potty Provider in Tempe?
If you choose Arizona Portables for your porta potty installation in Tempe, AZ, you can expect the following in your service level agreement.
Affordable and Competitive Quotes – The price you see is the price you pay, with no hidden costs.
World-Class Service – We provide our customers with industry-leading service.
Fast Delivery – We'll have your porta potty on site as fast as possible.
Effective Cleaning – We'll service and maintain your porta potty.
Dedicated Service Agent – You get a dedicated agent assigned to you.
Which Areas Around Tempe Does Arizona Portables Cover?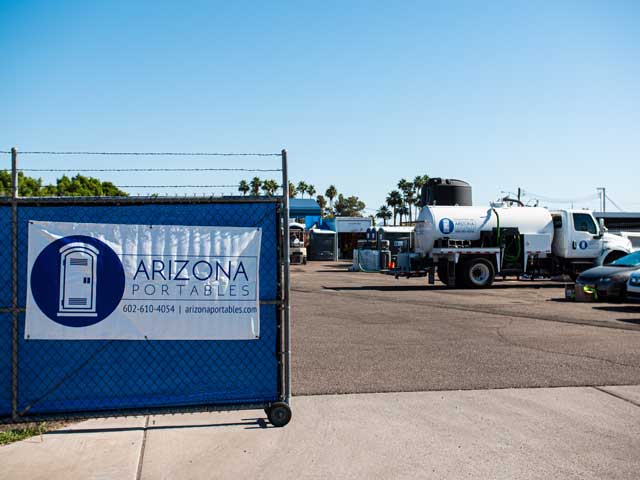 Arizona Portables offers porta potty services for all counties and locations across Tempe, AZ. Whether you need a porta potty at an event at Legoland Discovery Center or outside the Phoenix Zoo, Arizona Portables covers every square inch of Tempe, AZ.
Arizona Portables – Let the Professionals Handle Your Porta Potty Needs
You can expect the best customer service with Arizona Portables. We have a 5-star rating on Google Reviews, and you can check out our customer testimonials on Yelp, Citysearch, and Angie's List.
Can I Get Emergency Porta Potty Services in Tempe with Arizona Portables?
Arizona Portables offers you 24-hour emergency service. Call us on our 24-hour hotline (602) 610-1220. We'll dispatch a porta potty to your location right away.
How Do I Book My Porta Potty Rental in Tempe?
Booking is easy with Arizona Portables. You can book online using our fast and efficient service.
Enter Your Tempe Zip Code.
Select the Quantity of Porta Potties You Need and Enter the Delivery Date.
Give Us Your Account and Billing Information.
That's it! You're ready! We'll be in touch to arrange delivery anywhere in Tempe! Reserve online here
Not sure how many units you need? Use our online porta potty calculator.
If you don't want to book online, call our 24-hour hotline on (602) 610-1220 for immediate assistance with your reservation. Arizona Portables has service agents standing by to take your inquiry.
FAQ – Porta Potty Rental in Tempe
Q:  Where can I get the best porta potty service in Tempe, AZ?
A:  Contact Arizona Portables on (602) 610-1220 to make a booking. We service all locations around Tempe, AZ.
Q:  How much will it cost my business to rent a porta potty in Tempe, AZ?
A:  Arizona Portables provides you with the most affordable quote for your porta potty service. We'll beat any price for installations in Tempe, AZ!
Q:  Can I get emergency porta potty services in Tempe, AZ?
A:  Call the Arizona Portables 24-hour service hotline on (602) 610-1220 for the fast delivery of your porta-potty.
Q:  What are the standard dimensions and size of a porta-potty from Arizona Portables?
A:  Arizona Portables provides your business or location with a porta-potty featuring industry-standard dimensions of Width: 45 to 50-inches. Depth: 45-inches. Height: 90 to 95-inches. Every porta potty comes with a holding tank with a 60 to 70-gallon capacity.
We've made making reservations for standard portable units online easy with a 3 step process. Or you can give us a call to order directly with one of our portable toilet pros.
If you need to rent more than just a standard portable toilet unit or are interested in our pricing, give us a call or request a quote via our online form!