Porta Potty Rental Casa Grande, AZ
In need of a portable restroom solution in Casa Grande, AZ?
Partner with the Best Porta Potty Rental Company in Casa Grande
At Arizona Portables, we pride ourselves on meeting any port-a-potty need in the Casa Grande area. Don't let a broken bathroom impact your business; call Arizona portables for fast and efficient service at affordable prices!
We offer port-a-potty services for the following types of businesses throughout Casa Grande.
Retail operations and Shopping Malls
Commercial properties and warehouses
Fast Food Restaurants
Industrial applications and energy services
Sporting and Outdoor Events
Multi-site Projects
Rural and Pipeline Needs
Federal and Military Installations
Why Choose Arizona Portables in Casa Grande?
When you reserve your portable restroom rental you're guaranteed top-notch service.
We rely on you, our customers, to help us build our business. We have a 5-star rating on Google Reviews; you can also find us on Angie's List, Yelp, and Citysearch making our customers happy. Read through the reviews on our site, and see what people are saying about our service.
Benefits with Arizona Portables
Ethical and transparent quotes – We value our reputation and a reputable and trustworthy provider. We issue you a quote with no hidden charges; the price you see is the price you pay.
Professional Service – Our service center agents have extensive training, and they are here to help.
Timeous Delivery – We arrive at your venue on time, and we won't let you down.
Regular and Thorough Cleaning – We maintain and clean your porta potties throughout the duration of your rental.
Dedicated Service Agent – When you work with us, we issue a dedicated service agent to your account.
All Cleaning and Supplies Included – We issue all supplies, so you don't have to worry about anything.
Which Casa Grande Locations Does Arizona Portables Cover?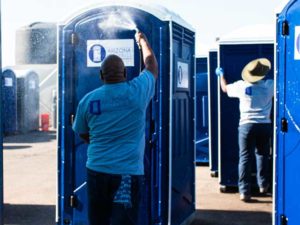 Arizona Portables covers every suburb in Casa Grande Arizona. If you're hosting an event in South Casa Grande by the Salt River or Echo Canyon, give us a call. If you need a porta potty for campsites in Fountain Hills or Lake Pleasant, we can accommodate your request. Whether you're in North, South, or Central Casa Grande, as far as Pinnacle Peak and The Boulders; Arizona Portables can reach your location anywhere in the city of Casa Grande.
What Other Porta Potty Services Does Arizona Portables Provide in Casa Grande?
Arizona Portables offers you emergency porta potty rental in Casa Grande. We understand the urgent potty needs that can't be planned for. If your bathroom breaks, we'll sort you out with a temporary replacement to keep you running.
Other Emergency Services
Emergency septic pump outs
Unit pickup, removal, and relocation
Hand washing stations
Other portable sanitation needs
Our emergency hotline runs 24-hours a day. Call (602) 610-1220; agents are standing by to handle your emergency.
How do I Rent Arizona Portables in Casa Grande?
Reserve your porta potty online with our simple three-step process.
Enter Your Zip Code.
Select Quantity and Your Delivery Date.
Provide Account and Billing Information.
Visit Arizona Portables' online reservations portal to Reserve Your Porta Potty Rental in Casa Grande!
Alternatively, call our service center for a free quote at (602) 610-1220
Not sure how many units you need to rent? Use our handy online quantity calculator.
Contact us today!
FAQ – Porta Potty Rental Scottsdale
Q:  Where can I find porta potty rental in Casa Grande, AZ?
A:   Reserve your porta potty online or call our service center at Arizona Portables on (602) 610-1220.
Q:  How much does it cost for porta potty rental in Casa Grande, AZ?
A:  At Arizona Portables, you get the most affordable porta potty rental in Casa Grande, AZ!
Q:  Where can I find an emergency porta potty rental in Casa Grande, AZ?
A:   Contact Arizona Portables on our 24-hotline at (602) 610-1220.
Q:   What is the dimensions and size of a standard porta potty unit from Arizona Portables?
A:  The standard dimensions of our porta potties are Width: 45 to 50 inches. Depth: 45 inches. Height: 90 to 95-inches. The holding tank capacity is 60 to 70-gallons.
We've made making reservations for standard portable units online easy with a 3 step process. Or you can give us a call to order directly with one of our portable toilet pros.
If you need to rent more than just a standard portable toilet unit or are interested in our pricing, give us a call or request a quote via our online form!