Providing Porta Potty Rentals in Chandler Arizona
We specialize in porta-potty rental at any location in Chandler, AZ. If your ablutions fail at your business, call us for a temporary solution.
We provide world-class porta potty services for sorts of businesses.
Shopping centers, malls, strip malls, and retail establishments.
Commercial warehouses and other facilities.
Fast food outlets, restaurants, and catering facilities.
Worksites and industrial applications.
Outdoor entertainment venues, festivals, and events.
Rural locations and pipeline projects.
Federal Government installations, local services, and Military bases.
Why Choose Arizona Portables?
With Arizona portables, you get the following benefits with your porta potty rental.
Honest and transparent Estimates – We aim to provide the most affordable porta-potty service in Chandler.
Professional and Reliable Service – Our team has decades of industry experience providing portable ablution facilities anywhere in Arizona.
Timeous and Efficient Delivery – When we commit to your site, we always deliver on time.
Dedicated Service Agents – We issue you with a point person to manage your account.
All supplies included in your quote – You get everything you need to run your temporary ablution facility.
Let us maintain and clean your porta potty to health code standards for fast, sanitary services and cleaning.
Which Areas of Chandler do Arizona Portables Cover?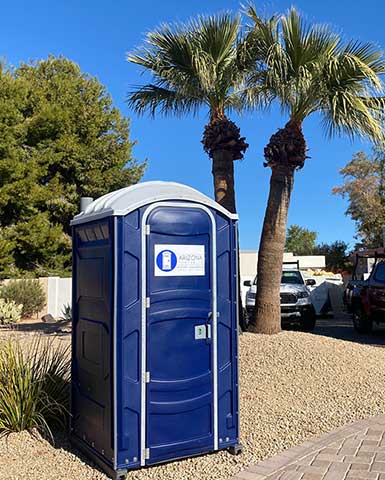 Arizona Portables provides businesses with emergency and temporary porta-potty facilities anywhere in Chandler, AZ.
From Makutu's Island in West Chandler to Tumbleweed Park Downtown, and as far south as Cooper Commons, Arizona Portables gives you access to portable ablutions anywhere in Chandler, AZ.
Arizona Portables – Work with the Best
Check us out on Google Reviews, and you find plenty of 5-star reviews and positive customer testimonials for our service.
Search for us on classifieds like Angie's List, Citysearch, and Yelp – we're available whenever and wherever you need us.
Emergency Porta Potty Service in Chandler, AZ
We offer you an emergency porta-potty, handwashing stations, and all your portable sanitation services anywhere in Chandler, AZ. Call our 24-hour hotline on (602) 610-1220, and speak to a friendly consultant about your needs.
How Can I Order My Porta Potty Rental?
Use our simple 3-step process for booking your porta potty right now.
Step 1 – Enter your Chandler zip code.
Step 2 – Choose how many porta potty's you need, and book your delivery date.
Step 3 – Provide us with your account and billing details.
We do the rest.
Visit Arizona Portables' online reservations portal to Reserve Your Porta Potty Rental Chandler, AZ!
Alternatively, call our service center for a free quote at (602) 610-1220
Contact Arizona Portables and Reserve Your Porta Potty Rental!
FAQ – Porta Potty Rental Chandler AZ
Q:  Where do I find the best porta potty rental in Chandler, AZ?
A:  Contact Arizona Portables, the leader in portable ablutions, on (602) 610-1220 to reserve your facility. Arizona Portables services Chandler and all cities throughout the state of Arizona.
Q:  What does it cost to rent a porta potty in Chandler, AZ?
A:  Arizona Portables offers you the most affordable option for temporary ablutions in Chandler, AZ.
Q:  Where can I find emergency porta potty services in Chandler, AZ?
A:  Contact Arizona Portables on our 24-hour Hotline (602) 610-1220. We'll give you a speedy installation to keep your business running.
Q:  What are the dimensions of a porta potty from Arizona Portables?
A:  Arizona Portables provides your business or event with porta potty's measuring 45 to 50-inches in width, 45-inches deep, with a height of 90 to 95-inches. The porta-potty holding tank features a 60 to 70-gallon capacity.
We've made making reservations for standard portable units online easy with a 3 step process. Or you can give us a call to order directly with one of our portable toilet pros.
If you need to rent more than just a standard portable toilet unit or are interested in our pricing, give us a call or request a quote via our online form!